So, I contemplated doing a video on this, but I didn't want it to seem like I was bragging. Also, I wasn't in the mood to be talking, plus I am too lazy to put makeup on/dress nice for a video, etc. Lazyyyyy blog post.
Speaking about lazy,
Do Not Refreeze
tagged me with the "I Love Your Blog" tag (so flattered! :3 And I agree... I need to post more. Rofl), a maillion-bajillion years ago, and I have yet to thank her. I suck. So, THANK YOU :D I would tag 15 other people but uh... nah. Haha.
ANYWAYS. Uhm. This is what I got for Christmas, only two items are beauty related:
First, one of my brothers went to the Nintendo store in NYC and brought be back two pokemon plushies; mudkip and A GIANT PIPLUP. This excites me greatly, haha. He also bought be DJ Hero (ridiculous, right?!), but I didn't feel like taking a picture of it, haha.
Then, my other brother bought me a train case, which looks like this:
Opened: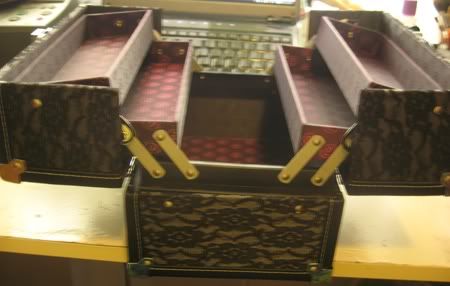 What's funny is I didn't ask him for anything. In fact, I didn't ask either of my brothers for anything. Not only am I happy for the gifts (obviously) but it shows that they actually know me well enough/pay attention to me to know how to get me gifts I like, haha!
And inside the train case, to my surprise, I found: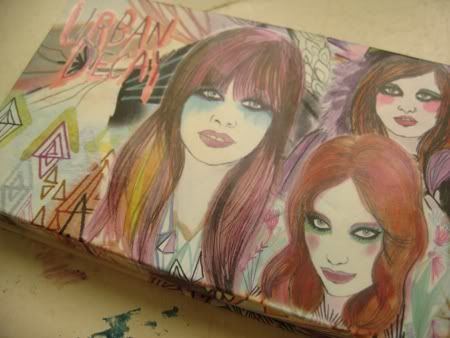 The Urban Decay Show Pony Shadow Box! I was really surprised, I wasn't expecting anything inside! I can't say I really wanted it, but a gift is a gift, and I am grateful. Plus, of the six shades, I only own one (Smog, it's from the Wallpaper Shadow Box, which I own). Flash looks promising, maybe I'm biased because I'm a freak for purple.
All of my other gifts were just money, and my parent's gift to me is a new phone, which I SERIOUSLY need. I still own a Razr. It works well enough, but it's seriously a pain in the ass to text with. I take FOREVER. Plus, I want a phone I can use Twitter with. I'm a Twitter freak :P
All in all it was a good Christmas. I find it funny that of my two brothers, I got gifts exploring my two sides; my love for nerdy nerdom, and my love for beauty related gifts. I was going to add something introspective and profound, but all I can think about at the moment is how bad I want to play DJ Hero. Tootle-loo!