So I'm a horrible person who forgets to post swatches. Swatches are not my favorite thing in the world to do, but I figure I should be a good person and do it (since I love LOOKING at swatches). I'm not going to bother saying which I got where and when, but these are a result of three hauls from the Cosmetics Company Shop, Sephora, and MAC Pro. Enjoy! (Click to enlarge)Everything except the lip glosses and flammable paint swatched on MUFE flash color in white.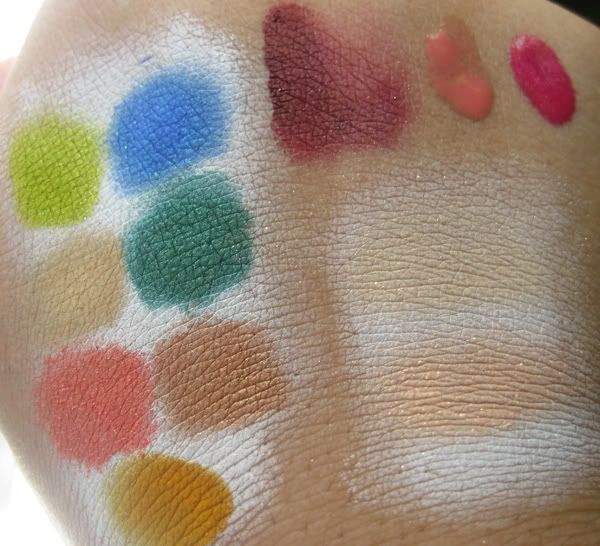 Left column on flash color, from top to bottom is: NARS Rated R Duo (Lime Green + Blue), NARS Misfit Duo (Beige + Emerald), MAC Electric Coral Pigment on the Left part of the column, MAC Mega Rich Pigment next to it on the right, and MAC Goldenrod eyeshadow on the bottom.
On the right is MAC Flammable paint, MAC Sock Hop l/g (peachy coral color), and MAC Style Minx on the far right (magenta pink).
On the right bottom are the two colors from the Hungry Heart blush duo by NARS.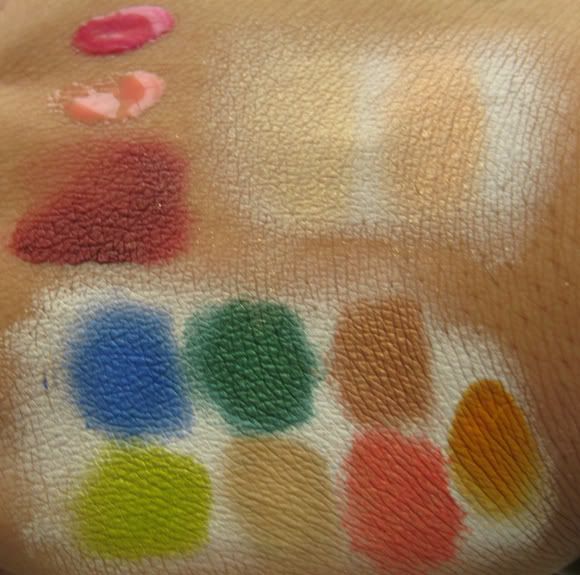 And here is a picture of 3D Silver Glitter from MAC, since I can't really swatch it..