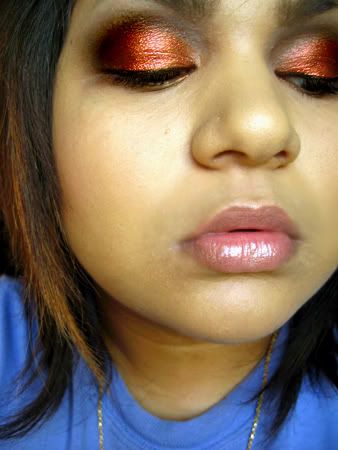 Whooooooey. Tutorial time. And it's not a pokemon tutorial! Though I have a lot to do. Off the top of my head; I've had a few requests for Jigglypuff, Rayquaza, Mightyeena, Growlithe... I'm probably missing more but those are just the ones I can remember. So honestly... I should not be fucking around with non-pokemon tutorials. Oh well.
Anyways, this is a look based on the one I did for New Years Eve; it's not exact, but it was a brown smokey eye using Reflects Copper (which I loooove so so so so much!)
Here is what I used:
Face:
Honestly, I do not remember, because this tutorial is soooo old.
Brows:
88 Palette
Eyes:
UDPP
MAC Cream Color Base in Antique Gold
MAC Eyeshadow in Tempting(Dupe is "Smog" from UD)
MAC Pigment in Copperbeam
88 Palette
Ben Nye Glitter Glue
MAC Reflects Copper Glitter
Lancome Definicils Mascara
K-Palette 24/7 Tattoo Liner
Cheeks:
Lancome Blush Subtil in Cedar Rose
Lips:
Mark Glow Baby Glow Hookup Lipgloss in Secret Secret