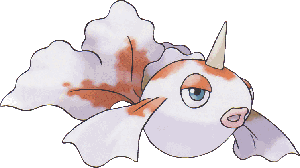 So I'm pretty happy with this look in general, however I do hate the fact that the brows wax I used had started to crack/shift -___- oh, and the fact that my eye started watering like CRAZYYYY. Luckily I cut the part out of my video where I blew my nose and talked about "snot fetishists who would buy me stuff in exchange for blowing my nose on camera". Ah. Anyways, Goldeen. Goldeen... I can't say I was ever a fan as a kid, and from a trainer standpoint, I still am not. But I do think it is an absolutely GORGEOUS pokemon, with so much potential. I love her fins.
Face:
Cosmedicine Medi-Matte Oil Control Lotion
Benefit Dr. Feelgood
Sheer Cover Mineral Foundation in "Golden"
The Balm Time Balm Concealer in "Medium"
Brows:
Covered with Ben Nye Nose and Scar Wax
fake ones drawn in wih K-Palette 24/7 Liner
Eyes:
Urban Decay Primer Potion
Kryolan Aquacolor in 288 (Orange), 070 (White), and 043 (Medium Brown)
Make Up For Ever Flash Color in 010 (Blanc/White)
88 Original Palette
Splash Eye Sparkle in "Avalanche" (Matte White) and "Island Sunset" (Matte Orange)
Ben Nye Grand Lumiere eyeshadow in "Tangerine"
NYX Glitter Cream Palette in "Eden"
24/7 Tattoo Liner
Lancome Definicils Mascara
Cheeks:
MAC Beauty Powder Loose in "Natural Flare"
NYX Blush in "Expresso"
Lips:
Make Up For Ever Flash Color in 010 (Blanc/White)
MAC Lipglass in "Sockhop"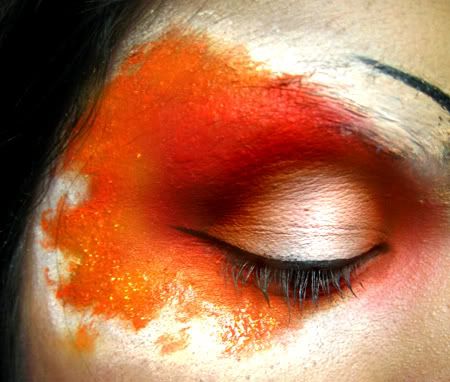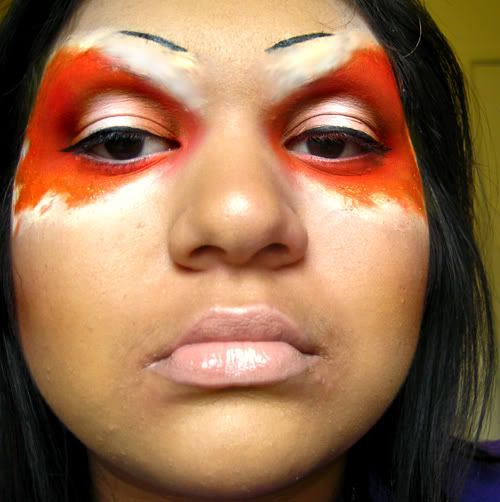 And even though this is a bad quality webcam pic, I like this because you can see my Goldeen "horn" xD;