The first time I ever gazed upon Shu Uemura lashes, I remember my remarks exactly. It wasn't a remark of wonder, of awe, or of utter lash lust, but rather, "Who the fuck would pay that much for lashes?!"
Of course, as I grow more into the beauty community (or become more insane, I think they basically are the same thing) for some reason the idea of paying about $30 for a pair of lashes isn't crazy and never happening, but rather, a goal.
What lashes? Specifically, these;
Shu Uemura's Black Velvet Feather false lashes
. I'm 99% these are the same lashes used in the Pixiwoo
Deep Purple New Years Party Look
, and if so, I've been in love ever since. I noticed in the comments of the video, people complain about the lashes killing the look, or the look being too dark, etc etc, but as a beauty afficianado (aka, insane person), I immediately thought, "Holy fuck, those are hot. Gimme"
My lust is overwhelming.
And to add fire to the flame, with their new Ègèrie collection (whatever the hell it is) they are releasing ANOTHER set of falsies that I, of course, had to fall in love with.
The Ègèrie black leather false eyelashes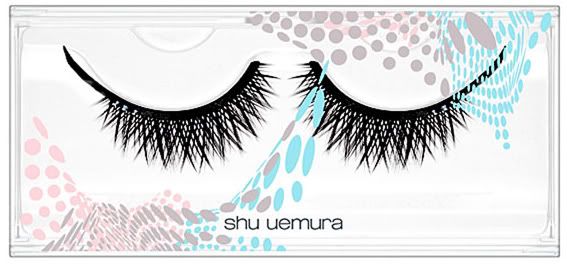 READ THIS MATHAR FRAWKIN DESCRIPTION: "Thick black lashes with eyeliner made from faux snake pressed leather. Add of a hint of rock accessories for a wild and sexy look.
The 130th shu uemura Spring Mode Makeup Collection invites you to be an "Egerie:" a rebellious and daring spirit who never loses her sense of elegance and sophistication. The collection is inspired by the glamour of rock and roll. Flashy, glimmering shine is complemented with delicate satin sheen finishes to transport you under the spotlight of the captivating rock stage."
If you've seen the rest of the collection, everything is very light, pretty, and spring-like, especially the packaging. I think the fact that the lashes are so edgy and dark and different (the lash band is made of frickin' LEATHER) is such an amazingly beautiful contrast. Unfortunately, despite the cute packaging, nothing else really catches my eye... except for the lashes.
I am going to be so poor this year :(
**Edit: I also really like (but don't necessarily NEED) this pair of
interesting two color lashes
, these
adorable rainbow individual lashes
, and these
gorgeous mink luxe lashes
(both the brown and the black look lovely. Black seems more "sexy sultry" and the soft brown looks so unique). Sigh.
**Double Edit: Oh god. I just discovered these
multicolored beauties
. Please shoot me.