Er yeah. Like the title says, I like to think of interesting ways to say "haul" instead of just being blatant. Because I try to be a clever motherfucker. But I'm not at the moment. So, if you have any idears, I would like to hear them (I have used Haulage, "They See Me Haulin', They Hatin'", and the like beforehand). Er, yeah anyways.
Yesterday I went to the mall and bought quite a few things. First of all, I went to MAC to FINALLY check out the Makeup Art Cosmetics collection. I had already seen the promo pictures and swatches and whatnot, so I knew what to expect for the most part. I wasn't too impressed with the quads or any of the lip or cheek things. The single eyeshadows were mediocre, and the ones that interested me I had dupes for. I was interested in 3 eyeliners and one of the pigments. The pigment I wanted to see, Push The Edge, was out of stock. Plus, I think I have a dupe for it. So I looked to the liners; Colour Matters (bright green), Obviously Orange (coral-orange), and I forget the name of the last one, the one that looks like romping but in liner form. I wasn't too impressed with Obviously Orange, because personally I found it was a bit too light and frosty for my skin tone, and the hot pink one was also sold out. Boo. I also decided to pick up Reflects Copper on a whim, because I heard such great things about it.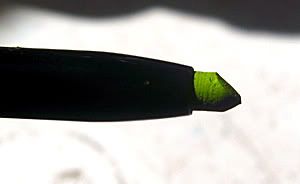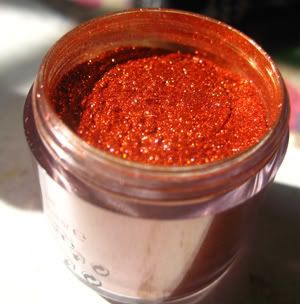 Since I had some left over money (two gift cards together totaling in at about $55) I decided to pick up something that I have always wanted from the permanent line; Morange lipstick. I saw a few girls rocking orange lipstick recently and I thought it looked really hot, so why not try it? And I'm so glad I did. It's gorgeous, and my new favorite bold lipcolor. Much more unique than hot pink.
Anyways, Lancome was having a deal; spend about $30 and get a cute carying case, minis of their Bi-Facial make up remover, Absolue Premium cream, Genifique youth activating concentrate, and Definicil mascara, PLUS a full size lipstick (two choices) and either a blush or mini shadow quad. And to boot, if you spend $50, you get three extra full size lipsticks FOR FREE! It was a great deal, so my mom bought a Lancome Dual finish powder (I didn't take pictures or swatch it), and I bought a full size of Definicils mascara, because I love it soo much. Now on to the goodies!
Cute bag! Choice of it in either red, blue, or black.
Tada!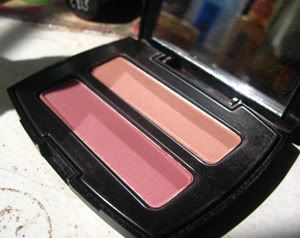 We chose the blush duo instead of the eyeshadow quad; Top is "Cedar Rose", bottom is "Aplum"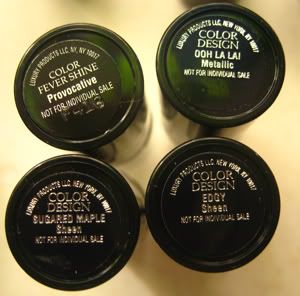 The lippies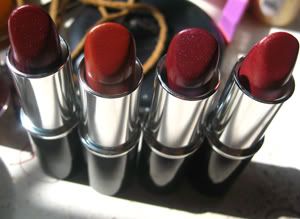 L-R; Provacative, Sugared Maple, Edgy, and Ooh La La!
I'm sure you're tired of my rambling. HERE are the swatches. Enjoy :]