Hello. My name is Denise. And I'm addicted to Duo-Chromes. I don't know what about them makes them so appealing. So versatile, gorgeous... I suppose it's my obsession with color. I like to squeeze it anywhere possible. So the idea of squeezing two (possibly three; I do in fact own Trio-Chrome eye shadow and nail polishes!) colors into one? AMAZING. Plus, putting them over different bases (specifically dark bases like black) really transforms them. I love them, period. So today's post will be me talking about duo-chromes (And, here's a little tidbit; chrome is not named after the finish chrome, like the metal finish, but short for chromatic; color. And duo is obvious; two. So it means two color, basically. And thus a Trio, or Tri Chrome would be a three color e/s or nailpolish!).
First, nails. I neglect my nails, and my hands are gross. I still bite my nails, but it's even worse than most people, mainly because I don't limit the biting to only my nails; it's also to the skin around my nails. As a result my hands are often dry and gross, and I'm embarrassed of them. However, my love of color overpowers my shame so, it results in my nails being painted prettily. I haven't painted my nails in a long time, so I was wondering what to use. I have a whole collection of duochrome and trichrome nail polishes, because they were only $1.00 at Rhinomart. They're all by Rimmel, and the picture does them no justice: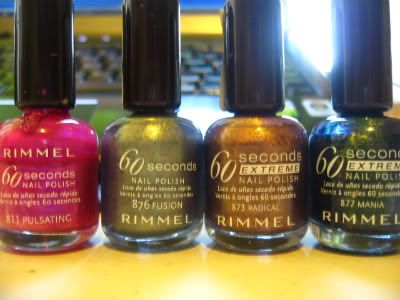 Out of all my nail polishes, these four, hands down, are my favorite (and maybe Purple Passion from Milani, but it's too sheer!). The picture does them no justice, so I'll describe them in greater detail;
Pulsating: A hot fuschia with violet duochrome. When put over a black base (as I did) the violet stands out more; it reminds me of "Stars and Rockets" MAC e/s or Cosmic Violet from Ben Nye or Fishnet from Urban Decay in nailpolish form, except way more intense.
Fusion: A silver/blue/lavender TRI chrome. I haven't tried it over a black base, but I assume the blue and violet stand out more. Gorgeous.
Radical: Probably the most "subtle" of the trichromes. It's the most strangest, gorgeous, interesting color ever. I don't wear it over a black base because it's amazing on it's own. It has tan, gold, and violet in it! Looks different in different lighting. I think this one is probably my all time favorite.
Mania: Probably the most vibrant of the bunch. It's reminds me of the sea; it's a really intense cobalt blue with sea green and lime green and gold flecks. Also a Tri-Chrome. Over a black base, it looks like a blackened green with lime/gold shimmer.
I'm not sure if these colors are discontinued, but if they aren't, pick them up! They're amazing.
Anyways, the nail's I'm wearing now are "Pulsating" over a black base. Picture here: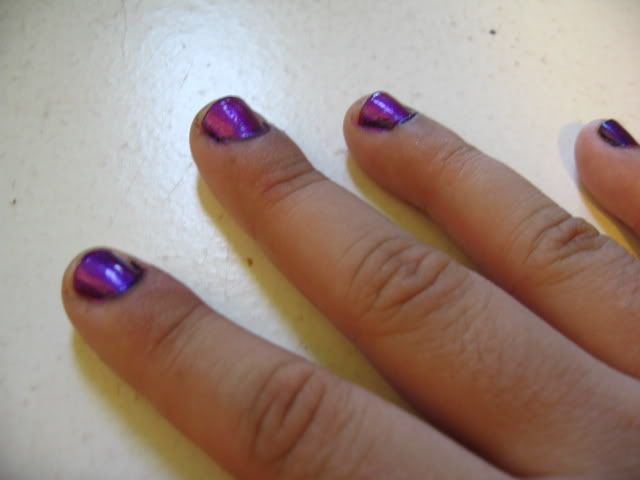 See? Nasty hands. Haha.
Anyways, now onto lips. I just purchased a Smashbox gloss duochrome, but I already have pictures, and I only have a few. The only other one I have (and can think of at the moment) is "Queen of Africa" from NYX. It's a not-so obvious duochrome, it's kind of like a violet-orchid color. I don't really like purple on my lips, so I pair it with this pale pink lipstick from Avon called Pink Fantasie. Alone, I don't like these two products, but together they're amazing! And for an added duochrome effect, I add some Vellum e/s from MAC over it. I seriously love putting Vellum over my lipglosses; it makes them so pretty, not to mention tones down the glossiness, which sometimes I appreciate (because I don't want to look like I drooled all over myself). Pics here: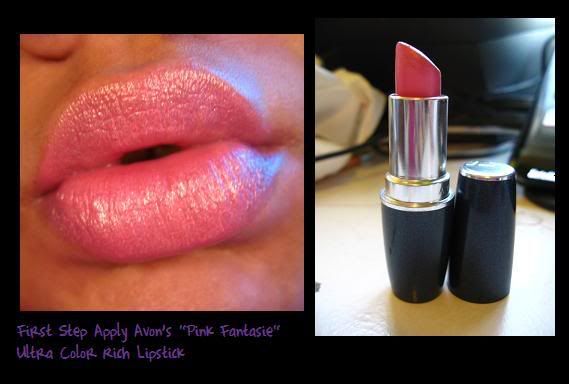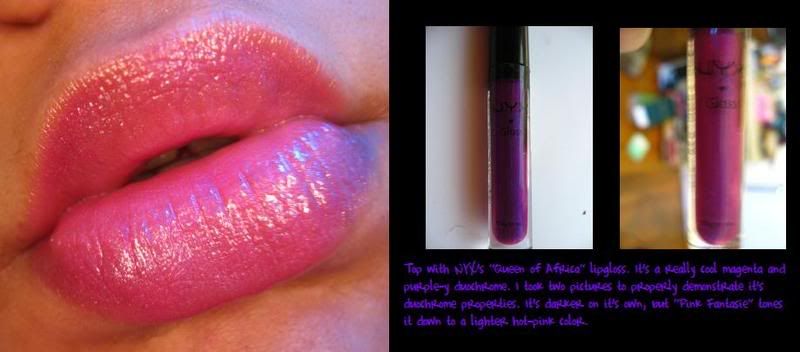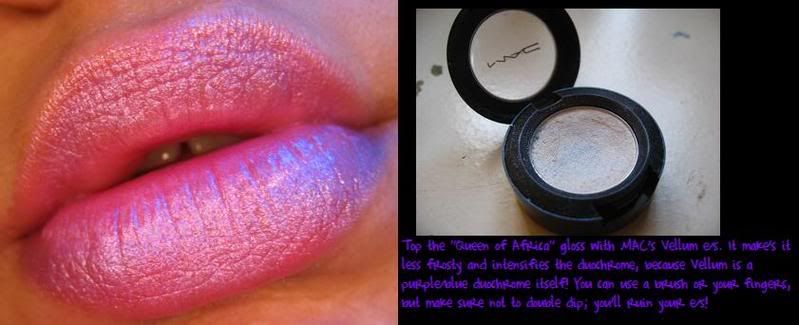 And I wasn't going to add this, but, eye shadow. I own only four duochromes, Vellum e/s from MAC and Label Whore e/s from Too Faced, and my two favorite from Physician's formula, both DISCONTINUED. They even had a duochrome liquid liner, but it dried up and I threw it away (it was this pretty sparkling black/blue/violet color). Anyways, here are the two colors;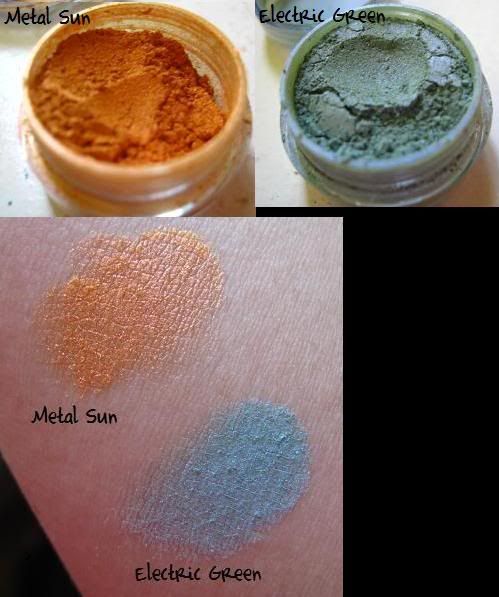 Again, the pictures do these e/s no justice, so here's another description;
Metal Sun: A gold/orange/rusty pink duochrome. Sometimes, it even looks violet. My favorite of the two.
Electric Green: A green/turquoise/blue-violet color. I like it, but in certain lighting the green look's moldy, so I don't use it as much as Metal Sun.
Anyways, hope you enjoy DuoChrome and the ever so rare TriChrome cosmetic products. I think I may have a few more from Heavenly Natural Beauty, yay!
P.S. If you know any good duochrome or trichrome eye shadows, nail polishes, or lip glosses/sticks, let me know!