So... you know how I said I would save my money? Well... I didn't. BUT I HAVE A JUSTIFIABLE REASON. The order I placed yesterday from Heavenly Natural Beauty was free- well, for me. My brother paid for it, "A late Christmas Gift". WOW. What a nice guy huh? Sixty bucks FOR FREE. If that wasn't enough I went to the Ontario Mills mall today, and decided "Hey, why not splurge a little?"
A little too much splurging, unfortunately. My "haul" only consisted of 5 items (beauty related). The rest were clothes and shoes, but I'm probably not going to discuss them in detail because, well, it's kind of boring. Anyways, first, I went to this place called "Planet Beauty". I've been wanting to buy Tweezerman tweezers for ages, and they never have them at the local Sephoras. I opted not to buy one online, and just bought it there. It was a plain stainless steel one, $20 (I wanted a colored one, but the only colored ones they had were pointed...). I also saw some very pretty Smashbox glosses for $18 each. Every time I purchase make up, I've always been a "more focus on the eyes" kinda gal, mainly because you can play with color more so there than your lips or cheeks (you can't have blue or purple or green lips!). So as my "New Years Resolution" I plan on buying more lip and cheek products. Which is what I did. A few of the glosses caught my eye. I decided on two of them. But then, hey, why not three? Of course, in my mind I thought of the costs separately (Oh it's just $18!) but together plus tax; the four items were $80. At the cash register, this is my (mental) reaction: "HOLY F$()@*#)*@*(%$#CK!!!!!!". Of course, on the outside, I kept my composure and a placid smile.
Even though it was a lot of money, I'm glad I bought them, I do not regret my purchases whatsoever. After weeks (I began to look like a Yeti) of lazy Winter-break-lack-of-tweezing, I set these Tweezers to work. Part of me wishes I took a "before" and "after picture" (because seriously, I was plucking so fast I swore there was smoke coming out of those tweezers!), goddamn my brows were hairy. But they're nice and tidy and plucked now. I keep admiring them in the mirror, because I'm a freak.
I also really like my glosses, I was kind of worried I would have colors similar to them, but luckily I don't. Even those that seem like they might seem similar, the formula and texture made all the difference. Anyways, the three glosses were in (btw, I'm taking all the color descriptions from the lovely Sephora) Candid (a sheer pink-rose with gold shimmer), Flash (a slightly more opaque shimmering golden coral), and Electric (a fuchsia pink with blue-toned shimmer). Of the three, Flash was the most opaque, Electric was slightly less opaque, and Candid was very sheer. FYI Electric SO does not look like the Sephora online picture. You need to fix that Sephora! Also, I found this kind of weird, all of the brushes were the typical felt tip (is that what you called them?) applicators, except for Candid which uses a brush. Hmmm. Wonder why? I don't really have a favorite, but if I had to pick, I think it may be Electric. Mainly because I'm a big fan of the fuchsia/magenta/hot pink lip gloss, not to mention the pretty blue shimmer. And you know what that means; whiter looking teeth! That's always a huge plus. Anyways, enough of my yapping; swatches here: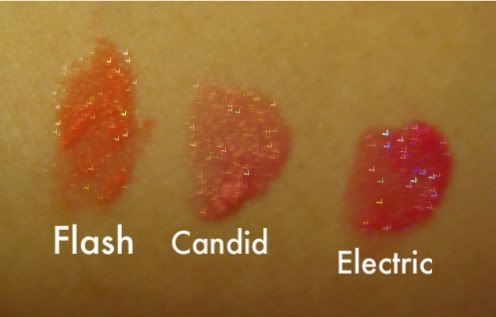 (different lighting)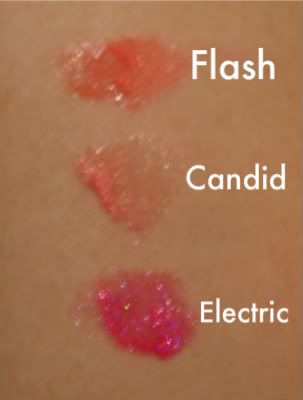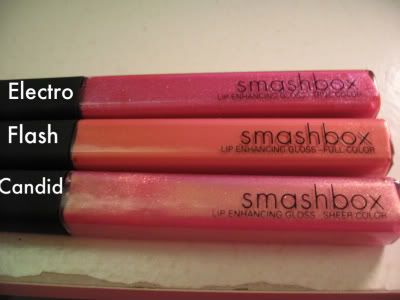 (different lighting, and why did I type "Electro" instead of Electric?! Haha sorry, I'm weird that way.)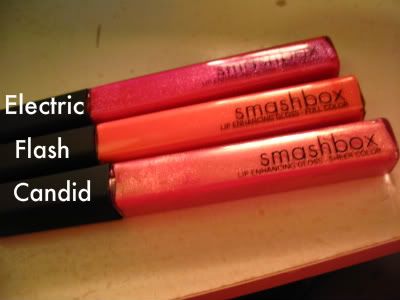 Now to see them on my lips, hehehe: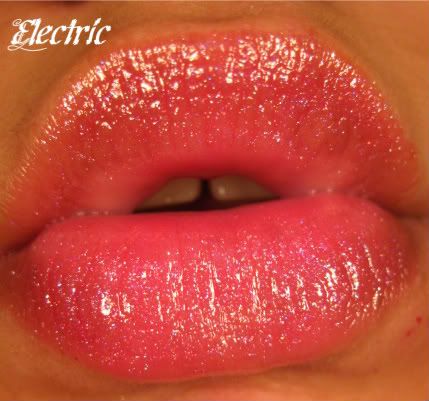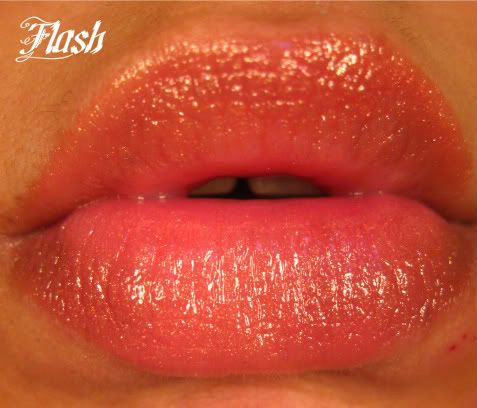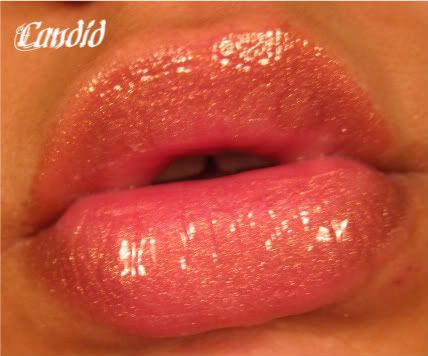 Sorry about my lighting, the colors don't look as vibrant as they do in real life. But I'm too lazy to try and retake pictures with better lighting, haha.
Anyways, the rest is pretty much boring (more boring?) from here on out. Victoria's Secret was having it's semi-annual sale, which to me equals cheap beauty products. Of course, I didn't have much money left after the lip glosses and tweezers... so I only bought one thing. Not to mention there weren't many things left there, a lot of nail polishes, a few lip glosses, and some body powders. I don't really use body powders and their lip glosses looked kind of "ew", so I picked out my favorite nail polish shade. I don't have a color like this; it's called "Cocktail". It looks different in different lighting. It's sort of a pink-y, coral, fluorescent orange shade with very subtle gold shimmers. It kind of reminds me of "Vegas Volt" lipstick from MAC in nail polish form, except with little shimmers in it. The nail polish was only $2.88 with tax!!! I had four I originally wanted to buy, I wish I atleast bought two (there was this mauve-pink with purple and blue shimmer in it- wahhh! So pretty) Anyways, swatches here: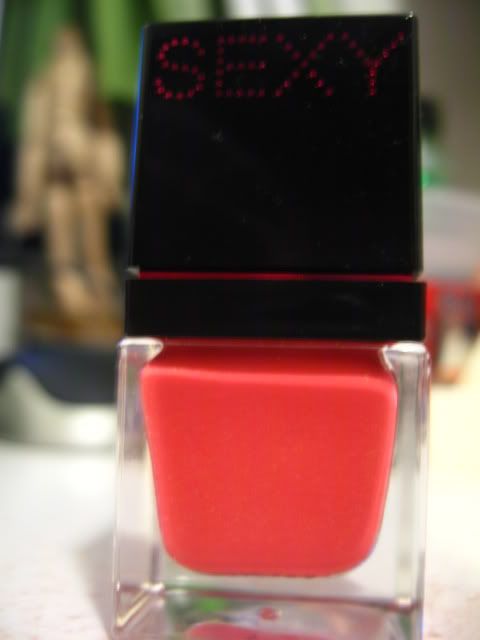 (different lighting)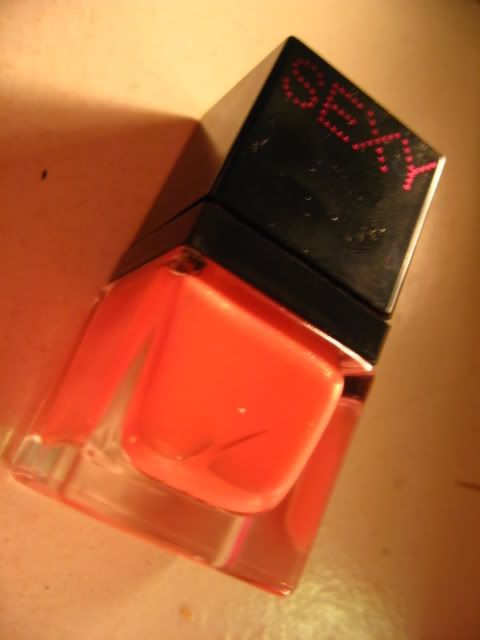 On my fingers (excuse my gross fingers, Winter is a bitch. Also, yes, I AM inadvertently flipping you off!)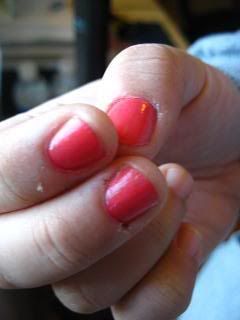 Anyways that is all. To tired to talk about clothes that I bought, however I must quickly gush about my shoes. I got these suede mocasin-flat type shoes with cute ribbon detailing, and the lining is with some sort of faux-fur. They're really comfortable (and we're fairly cheap, just $19.99!). I also got some ecosneaks from Simple! I've been wanting these for a long time, and for awhile I thought I could only buy them online. Basically they're really cool; made out of recycled material and hemp. I don't see the style I have on the website anymore, but basically if you're curious they're in the style called "Satire", but the light blue with a small orange band trim style I own (trust me, it's cuter in person) isn't there. Oh well. I like them, but I kind of like the other styles online better. I wanted this one: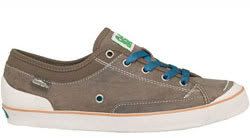 But -sigh- you can't always get what you want. Heh.